Backpack Bed Swag Comparison

Backpack Bed Swag Feature Comparison
The Backpack Bed has revolutionised single person light weight swag camping and travel.
Short trips should not be a hassle to prepare for. With everything built-in you are ready to go. From a few days camping with mates to a professional bug out bag whenever disaster may strike.
Not built to a price. But built to last.
Spend more time in the outdoors - rather than packing and unpacking.
Keep in the boot/trunk for a snowstorm, emergency or crashing at your friend's place after a party. The Backpack Bed is ready for whatever you want to do.
Every Backpack Bed Swag
Four products in one - means grab and go.
Ergonomic backpack with pockets
Three window single person tent
Built-in mattress - ice insulating
Wind and sun shelter
The Backpack Bed Swag makes anywhere a bed for your next camp out, road trip, hunting, fishing, disaster (preppers), cycling, motorbike or horse riding adventure.
UNTAMED BACKPACK BED

EXPANSE BACKPACK BED

LIFETIME LIMITED WARRANTY

AWARDS HERITAGE

SEASONS
3 Season Swag
4 Season Swag
with zipped rear winter door.


Topsheet Canopy Fabric
200 Denier Oxford
• Breathable (4116gm/m2/24Hr)
• Waterproof (15,000mmH2O)
• Fire retardant (CPAI-84)

Exclusive use


Topsheet Canopy Fabric
125 Denier Ultra-lite Oxford
• Breathable (4116gm/m2/24Hr)
• Waterproof (15,000mmH2O)
• Fire retardant (CPAI-84)




Bed Base & Backpack Fabric
600 Denier Tough Oxford
• Waterproof (15,000mmH2O)
• Fire retardant (CPAI-84)





Backpack Fabric
200 Denier Oxford
• Waterproof (15,000mmH2O)
• Fire retardant (CPAI-84)

TAPE SEALED SEAMS

Water protection - tape sealed main seams.




1900mm x 550mm x 10mm @ 368gm
(75" x 21.5" x 0.4" @ 13oz)
• Fire Retardant (CPAI-84)
• No smell (SNV 195651)
• No Formaldehyde (ISO 14184-1)

BACKPACK CAPACITY
65 Litres
Backpack cavity when single person tent and mattress is rolled out. Accessible behind your head - incredibly useful to store gear you don't need while you sleep e.g. shoes, jacket.
BACKPACK STORAGE POCKETS
22 Litres / 5 pockets
• 3 velcro exterior pockets.

Water Resistant Zipped pockets:
• 1 zipped inside lid pocket.
• 1 internal lockable pocket with brass key lock.
32 Litres / 13 pockets
• 3 velcro exterior pockets.
• 1 buckle closure lid pocket for water bladder (accessories not included).

Water Resistant Zipped pockets:
• 3 zipped lid pockets:
• 2 hidden
• 1 outer
• 2 zipped covered side pockets.
• 1 internal lockable pocket with brass key lock.
• 1 internal 6L tape sealed wet / dry zipped pocket.

• 1 zippped pole pocket on base.
• 1 zipped rain cover pocket on base.
BACKPACK CAVITY EXTENDER

Extends the cavity of the Backpack
• Increasing volume
• Added rain protection
• YKK toggle on drawstring
BACKPACK FEATURES
• Ergonomically designed anatomical backpack straps.
• Long journey comfort foam that rebounds.
• Height & width adjustable chest strap - to ensure no shoulder slip + emergency whistle.
• Thumb loop straps to relieve bag weight on shoulders.
• 2 stainless steel hammock tough carabiners.
• D-ring on each backpack strap.
PROFESSIONAL EXTRAS

• 2 x lengths of military MOLLE on base - easily attach and carry more.
• Adjustable water bladder tube holder on backpack straps.
• Backpack cavity extender with YKK toggle - for added contents protection.
• Slip resistant moulded carry handle.
POLES & ACCESSORIES
• Built-in foot pole
• Reflective ropes
• Built-in foot pole.
• Aluminium head end pole - fold into 3 and store in built-in 'Pole' pocket.
• Reflective ropes.
• 2 x pole holders - use your poles on sand or mud without sinking.
• 8 ultra-lite strong aluminium pegs in accessory bag (14gm / 0.5oz / peg).
RAIN COVER

Emergency rain cover - in own storage pocket on base.

TEAR RESISTANT INSECT PROTECTION

3 window ventilation points


1. Head - zipped semi circle mesh behind head.
2. Chest
3. Foot
STRENGTH

Double stitching, heavy duty No. 10 water resistant zips and reinforcement.

DIMENSIONS
Backpack: 600 x 450 x 220mm / 23.5" x 17.5" x 8.5"
Bed zone: 2000 x 630mm / 6'7" x 25"
Top canopy length: 2650mm / 104"
Extendable floor: 2000 x 630mm / 6'7" x 25"
WEIGHT
Without accessories

3.2kg / 7lb

3.5kg / 7.7lb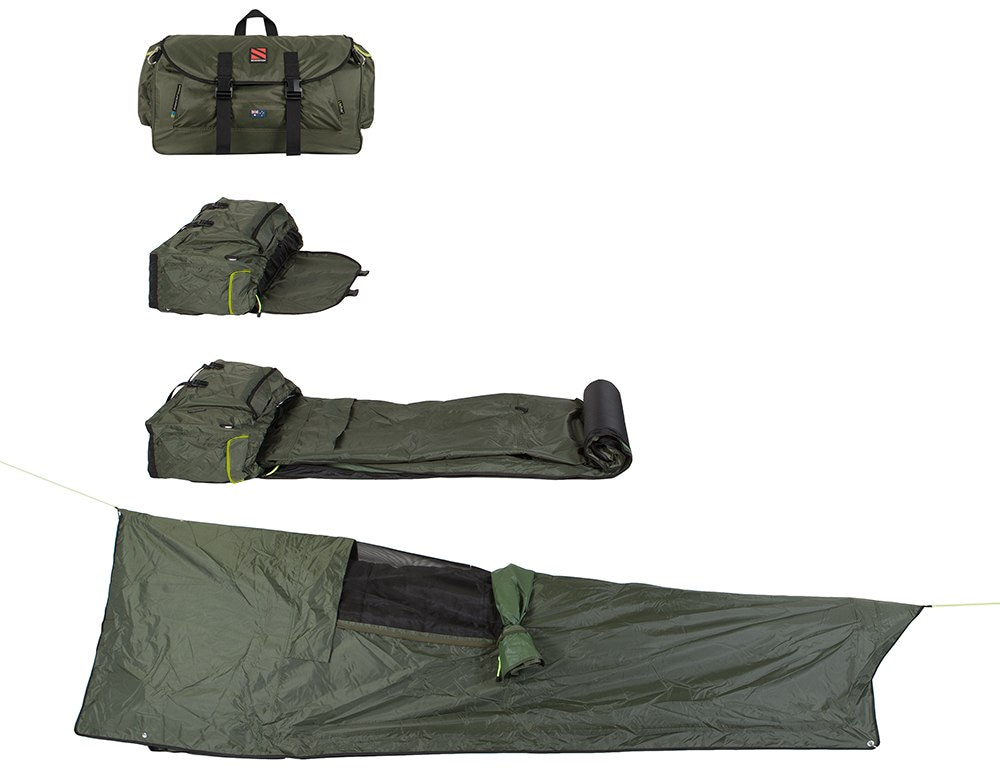 UNTAMED Backpack Bed® Swag – (Backpack + Tent + Mattress + Sun Shelter)
$397.00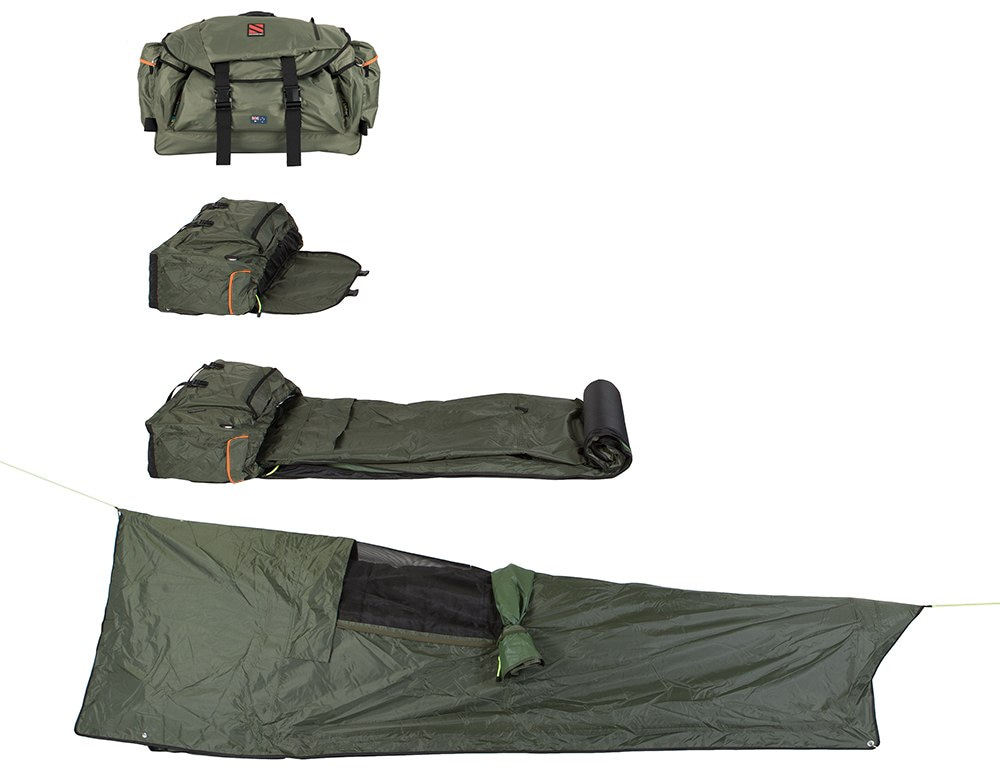 EXPANSE Backpack Bed® Swag – (Backpack + Tent + Mattress + Sun Shelter)
$585.00