UNTAMED Backpack Bed® Swag – (Backpack + Tent + Mattress + Sun Shelter)
$480.00
Sold Out
Pay Later with Paypal Pay in 4.
4 Products in ONE
A Backpack + Tent + Mattress + Sun Shelter.
Breathable fire retardant fabric with 5 pockets.
Lightweight at only 3.2kg / 7lb the UNTAMED is the perfect swag for your next 3 SEASON adventure.
Hassle Free Camping.  Stay anywhere . . . fast
Your 3 season adventure system ALL built-in
The SEASONFORT Backpack Bed swag was born out of the need to create a brutally tough portable fire retardant tent - that is also an ergonomic backpack. With green trim side pockets the UNTAMED is your fast go to bag for fun overnight stays or disaster planning.
Ergonomic straps & pockets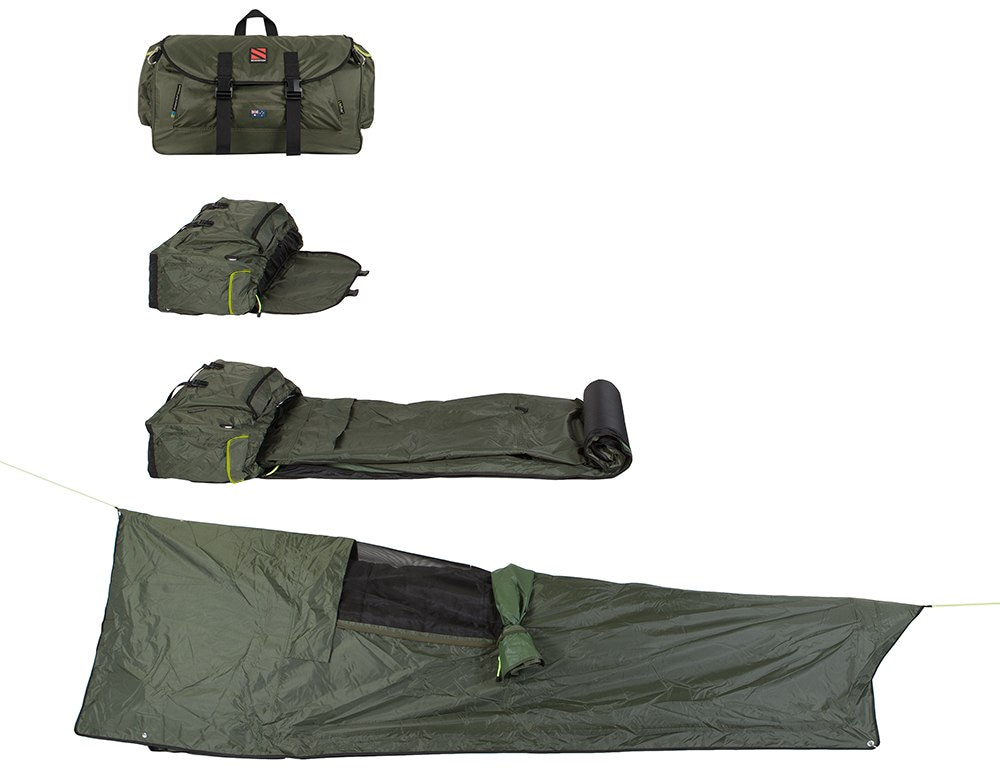 Single person with 3 windows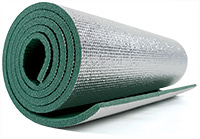 Ice insulating + Fire retardant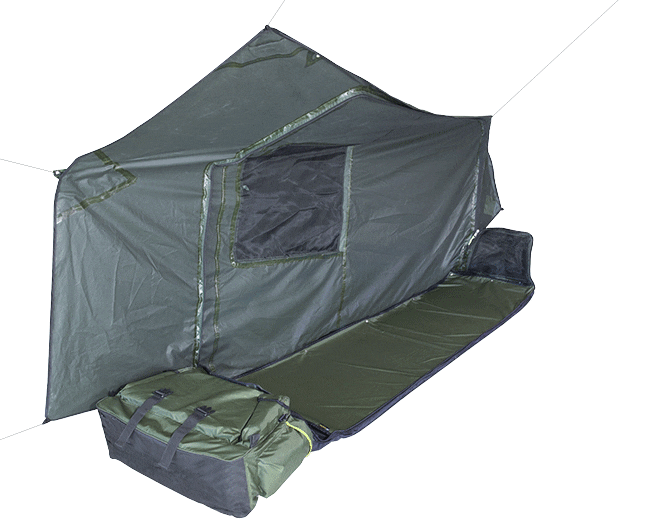 Backpack Bed 3.2kg / 7lbs

Summer, Autum, Spring - Adventure system


Breathable + Waterproof fabrics





Heavy duty rugged tough materials

Cut & tear resistant mesh

Double stitching & reinforcement

Limited lifetime warranty
LiteTrex® Fabric Technology
LiteTrex® fabrics shield you from the elements
Water resistant (15,000mmH2O)
Fire retardant (CPAI-84)
Quick-dry water repellent layer for faster drying.
Independently lab tested to 17 international standards - including REACH (1907/2006).






Breathable + Waterproof
200 Denier Oxford
Waterproof + Tough
600 Denier Oxford

Waterproof
200 Denier Oxford
Mick D.
Former SAS Patrol Commander
"I've never seen a swag system this compact and this light - it's good to go."
Travel light 3 seasons - leave your pile of gear at home and go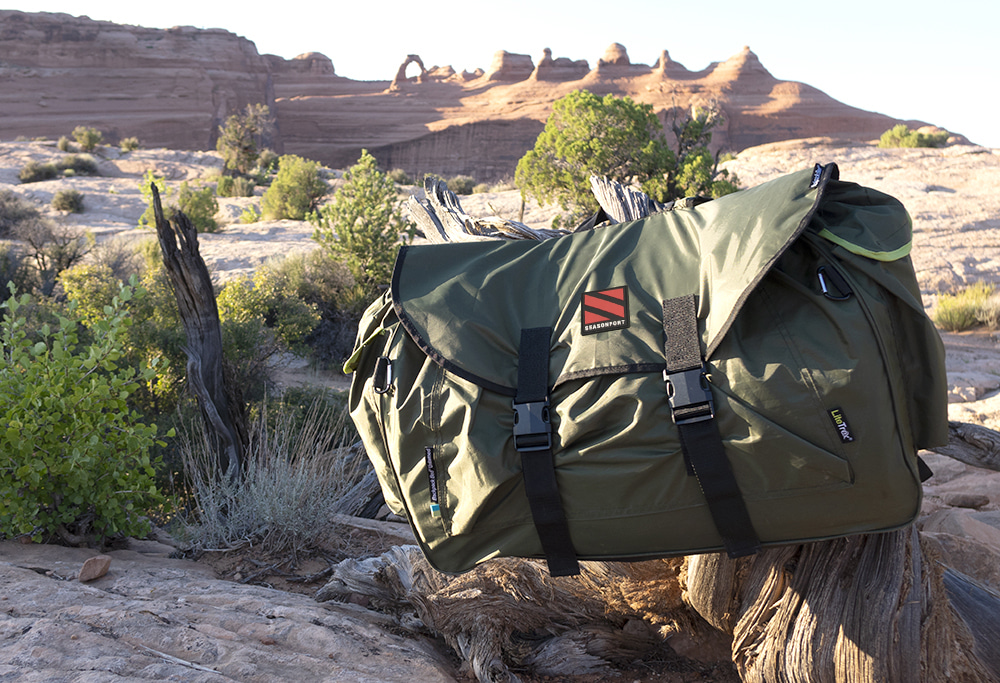 UNTAMED Backpack Bed swag features
Faster than Superman - roll out and get in
Set-up and go in seconds - means more time for adventure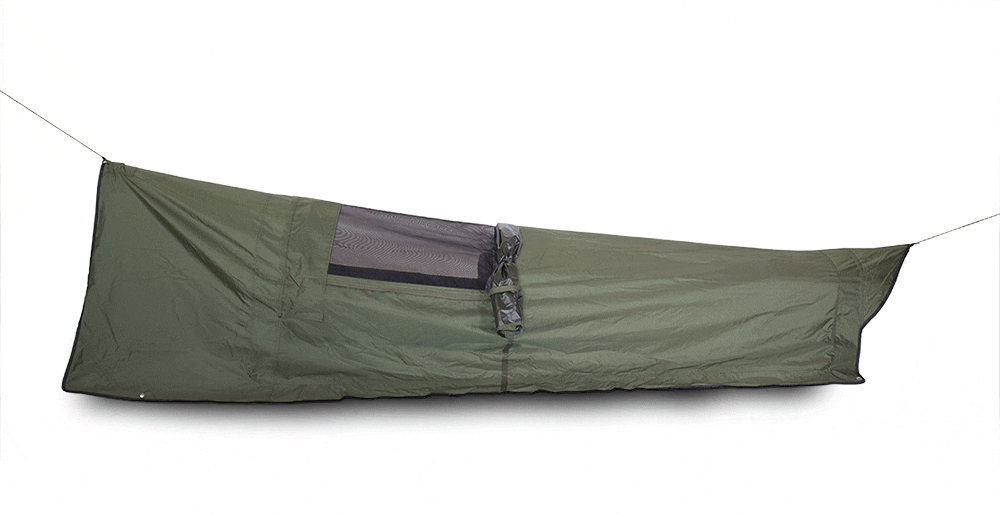 The weather is not your friend - conditions change rapidly. No need to fiddle with poles and small parts when the weather surprises you.
"I was dry while others were still trying to put up their fancy #%$#@ tents. It's hilarious to see anyone put up a tent in pouring rain and wind. I laughed so hard. The storm was short - but what a mess it left. They were SOAKED."  Jason M. USA
Backpack Capacity 


65 Litres + 22 Litres across 5 pockets
Backpack cavity when single person tent and mattress is rolled out. Accessible behind your head - incredibly useful to store gear you don't need while you sleep e.g. shoes, jacket.

Storage Pockets
22 Litres

22 Litres / 5 pockets
• 3 velcro exterior pockets.Water Resistant Zipped pockets:
• 1 zipped inside lid pocket.
• 1 internal lockable pocket with brass key lock.

Adjustable padded backpack straps

• Ergonomically designed anatomical backpack straps.
• Long journey comfort foam that rebounds.
• Height & width adjustable chest strap - to ensure no shoulder slip + emergency whistle.
• D-ring on each backpack strap.
• Thumb loop straps to relieve bag weight on shoulders.

Lite weight odorless comfort mat
  
1900mm x 550mm x 10mm (75" x 21.5" x 0.4")

The odourless ASI Camp Mat is made to a custom formula that is not only fire retardant (EN71-2) but also mildew resistant and environmentally friendly; meeting strict European environmental standards.
Encapsulated bubbles help prevent moisture absorption.
The ultra long 190cm / 75" built-in camp mat has ASI (Advanced Silver Insulation) backing to protect against heat loss into the ground below.
"I slept on a frozen ice river in Colorado.  I could feel the heat come up into my body."  Tony Clark Designer
Stay protected day & night
Use the clever built-in custom reflective ropes to convert your Backpack Bed into a wind and sun shelter. A great daytime alternative configuration for your next camping trip.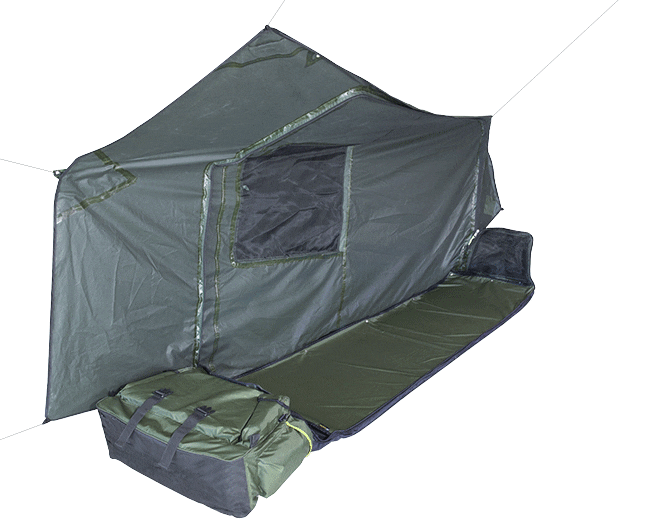 Included Accessories
• Built-in foot pole.
• 2 stainless steel hammock tough carabiners - useful in emergencies.
• Custom made reflective ropes - stored in built-in pockets for easy storage.
• Peg loops on all corners.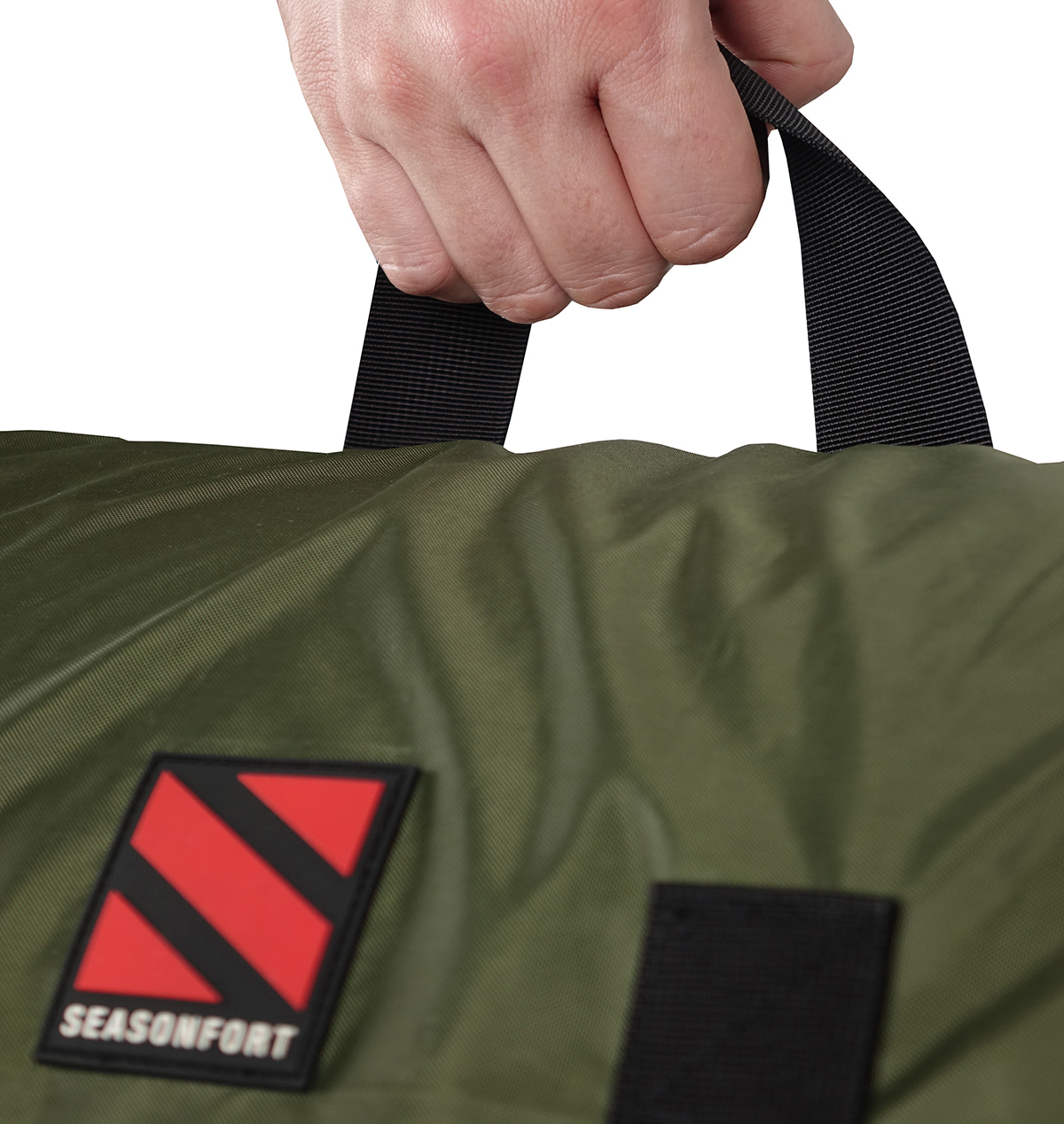 3 Tear & cut resistant mesh windows
Lifetime protection. Sleep in comfort knowing mosquitoes and insects stay out.
All 3 windows use a super tough tear and cut resistant mosquito mesh window protection:
Zipped semi circle door behind head
Chest window
Foot window
TIP. Behind head and foot windows may be open during rain when tent is setup.
Strength to survive the elements
Rugged swag toughness to survive any jungle, backyard or disaster. Perfect camping for motorbiking, fishing, cycling, hunting kayaking, hiking and outdoor fun.
The fabric, double stitching, heavy duty all water resistant zips, tape seal and reinforcement have all been combined for maximum strength and comfort.
The Backpack Bed is a versatile addition to your outdoor gear.
Use the UNTAMED Backpack Bed for ADVENTURE
Choose your Adventure - an impromptu night under the starts, kayak camping, kids lightweight scouts tent or when you are having too much fun to go home. The Backpack Bed replaces your traditional backpack, tent, bedroll, sun shelter and mattress - with an all in one solution ready to go when you are.
Use the UNTAMED Backpack Bed for MOTORBIKING / BIKEPACKING
You don't want to be carrying a lot of gear when on the back of a bike. The Backpack Bed is perfect for motorbike camping and bikepacking in place of a bedroll. Add your other gear to the backpack for an easy way to get going in a hurry.
Use the UNTAMED Backpack Bed for a SURVIVAL KIT BUG OUT BAG
The lightweight UNTAMED Backpack Bed is a perfect prepper backpack with storage in the 65L backpack + 22L across 5 pockets. It is an emergency bed, prepper kit and survival backpack all in one easy to use kit.
The Backpack Bed makes it easy to prepare your Go Bag with all the survival essentials ready for an emergency - including the built in tent and mattress. It is perfect to keep in the trunk of your car for that unexpected emergency bed.
Watch the video below for what to pack.
Weight
Without accessories

3.2kg / 7lb

Colour

Green - with Black / Lime pocket trim

Dimensions

Backpack: 600 x 420 x 220mm / 23.5" x 16.5" x 8.5"

Bed Zone: 2000 x 630mm / 6' 7" x 25"

Top Canopy: Length 2650mm / 104"

Extendable floor: 2000 x 630mm / 6'7" x 25"
WATCH
What to pack in your Backpack Bed
The ultimate 3 day trek packing list
Mick D.
Former SAS Patrol Commander
WATCH
Quick and easy Backpack Bed setup / packup
 3 BONUSES WITH YOUR PURCHASE

 FREE Standard Shipping Australia Wide
+ BONUS 50 Litre Dry Bag
Store your Backpack Bed between uses OR carry gear to keep dry.
+ BONUS Emergency Blanket
This survival blanket can save your life. Giant size 210 x 160cm / 82.6" x 63"