The Perfect Motorbike Bedroll
SEASONFORT UNTAMED Backpack Bed - your new Motorbike Camping gear.
Getting out on the road starts with the next generation SEASONFORT Backpack Bed - which is both a Backpack and a tent in one.
Be preared for any season and all weather conditions with the Backpack Bed's all weather protected bed with insulated mattress.
Your lightweight 7.7lbs / 3.5kg BAG + BED for any road trip
Four products

in one

- means grab and go.
Ergonomic backpack with pockets
Three window single person tent
Built-in mattress - ice insulating
Wind & sun shelter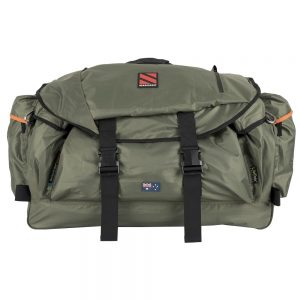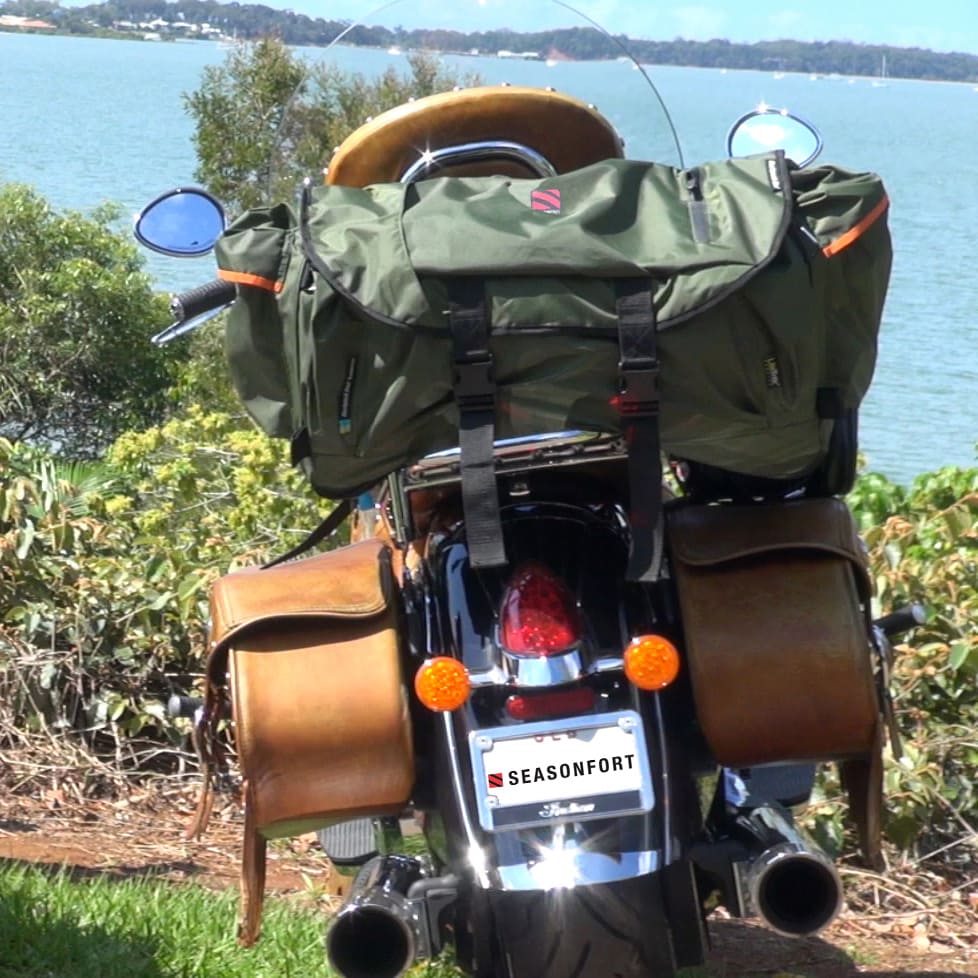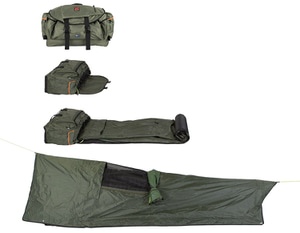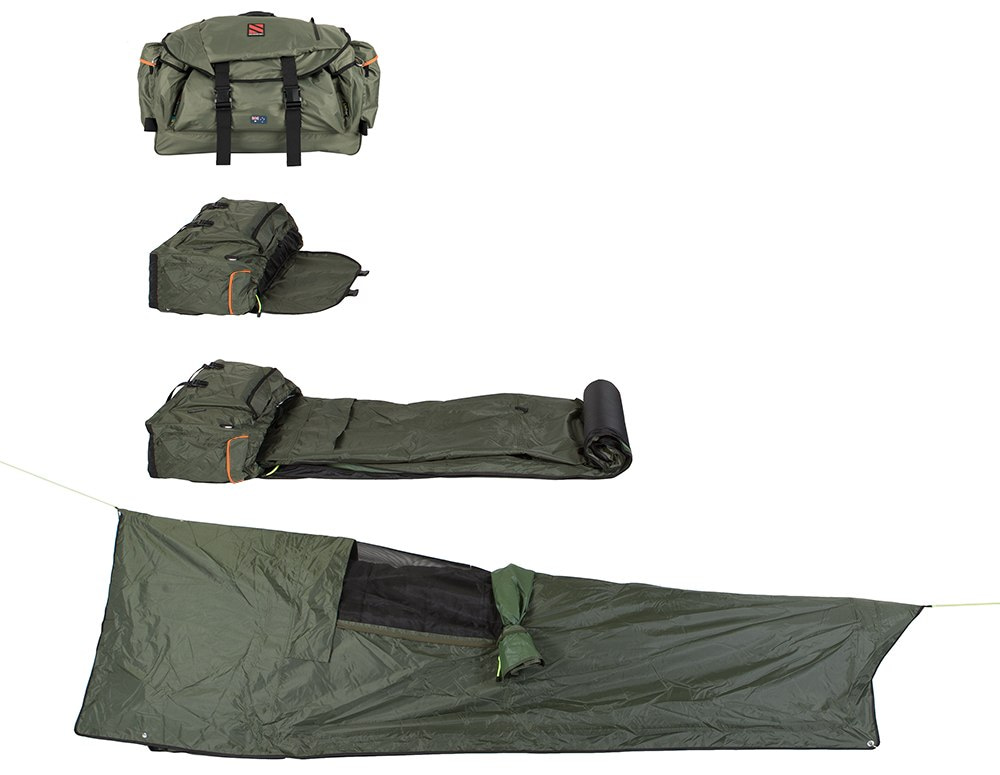 EXPANSE Backpack Bed® – Backpack + Tent + Mattress + Sun Shelter
$625.00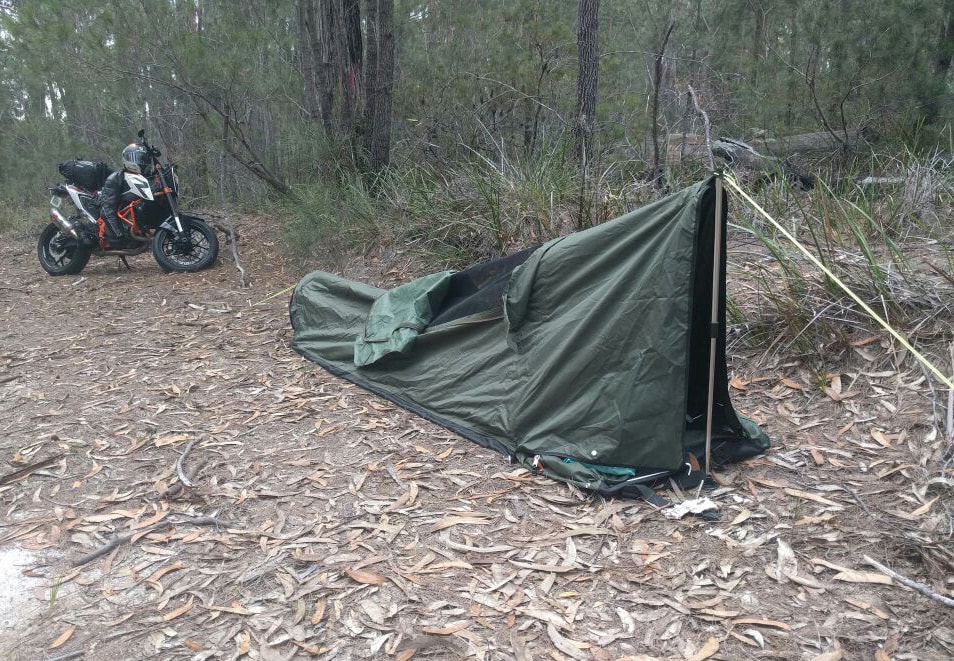 "My Backpack Bed is so light and easily straps to the back of my bike. When you are zipping around turns at 100km an hour, you can't afford to have anything impede the ride. Other bedrolls are simply too heavy and cumbersome and on a motorcycle that's a danger." Gary
The EXPANSE model Backpack Bed was designed with motorbike travel in mind.
As you know on the road, when it rains, water can get into your gear. To keep your next road trip dry SEASONFORT has added innovative features.
All-in-one design

Add a sleeping bag and you're set.

Setup in seconds

Quick & easy after a long days ride.

Durable and tough

Backpack Beds are made from rugged LiteTrex fabrics. Waterproof, fire retardant, mildew resistant and chemically safe.

Lightweight

EXPANSE model Backpack Beds is 7.7lbs / 3.5kg.

Breathable

LiteTrex Breathe fabric is breathable to 4116 gm/m2/24Hr. Almost double what is needed for a sleeping person.

Tape Sealed seams
The seams of Backpack Beds are tape sealed - just like ski jackets.
Unlike canvas, this means NO watering down, No conditioning, NO adding wax.
Less maintenance means more time to ride.
Insulated Mattress
Silver foil insulation stops the cold from underneath.
"I slept on a frozen ice river in Colorado. I could feel the heat come up into my body." Tony Clark, Designer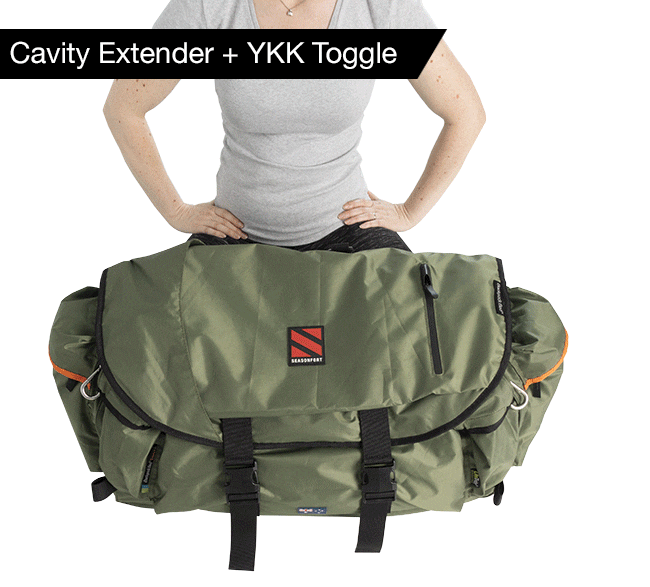 Backpack Cavity Extender
Ensures your gear keeps dry - even from horizontal rain.
EXPANSE model Backpack Bed only.
65 Litres + 32 Litres across 13 pockets
Backpack cavity when single person tent and mattress is rolled out.
Accessible behind your head - incredibly useful to store gear you don't need while you sleep e.g. shoes, jacket.
| | |
| --- | --- |
| Availability | Usually ships in 24-48 hours |
| Colour | Green - with Black / Orange pocket trim |
| Dimensions - Backpack | 23.5" x 17.5" x 8.5" / 600 x 450 x 220mm |
| Dimensions - Bed Zone | 6'7" x 25" / 2000 x 630mm |
| Dimensions - Top Canopy | Length 104" / 2650mm |
| Dimensions - Extendable floor | 6'7" x 25" / 2000 x 630mm |
| Fabric - Topsheet canopy | LiteTrex Breathe 125 Denier Ultra-lite |
| Fabric - Backpack | LiteTrex 200 Denier / LiteTrex Tough 600 Denier |
| Fabric - Floor | LiteTrex Tough 600 Denier Ultra-strong |
| Mattress - ASI Camp Mat | 75" x 21.5" x 0.4" / 1900 x 550 x 10mm |
Bonus inclusions - to start your road trip today
+ BONUS 50 Litre Dry Bag
Store your Backpack Bed between uses OR keep extra gear dry.
+ BONUS Emergency Blanket
This could save your life. Giant size 82.6" x 63" / 210 x 160cm